Sommerhus - 10 personer -
- 55100
- Lucca
Oversigt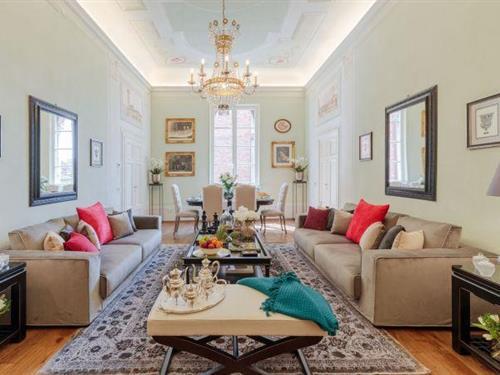 Vælg venligst en ankomstdato for at se pris.
Tilbyder miniferie

Ja

Afstand indkøb

200 m

Spa

Ja

Vaskemaskine

Ja

Opvaskemaskine

Ja
Beskrivelse
Teksten foreligger ikke på Dansk. Se teksten på Tysk nedenfor eller se den maskinoversatte på Dansk.
Beschreibung
Engulfed by world-famous history, this regal, contemporary apartment with lift is located on the second piano nobile of this Lucca-based palazzo dating back to 1200s. Geometrical lines and French windows lead to private intimate rooms with tranquil views of the surrounding medieval buildings and the Guinigi tower nextdoor. Take a short, scenic walk to the Amphitheatre Square (the oldest Roman Arena today one of the most famous Italian landmarks) and discover a new favourite gelato or espresso spot.

Meet your loved ones for breakfast in the formal dining room while gazing upon the an-cient buildings of Lucca that line Via Guinigi. Enjoy air conditioning and WiFi while deciding upon the day's sightseeing plan. Or just hit the streets and wander. San Giovanni church with its bespoke Puccini Concerts, Piazza San Michele, San Martino Cathedral and Corso Garibaldi are within 5 minutes.

A vibrant atmosphere drifts from one frescoed room to another at this beautifully restored piano nobile apartment on Lucca's Medieval Disctrict. Set in the 12th-century Palazzo Guinigi, once the formal residence of the Lords of Lucca, the apartment offers a taste of life in an era of grand entertaining—along with plenty of modern comforts. It's across from Via Fillungo and next to the Cathedral area, a few minutes walk from the city's best-known sights.

The private living room overlooking the city is the perfect spot for an afternoon spritz and snack while watching the city pass by. The fully equipped kitchen is the perfect place for foodies while the grand dining table is ideal to experience cooking classes with a local chef thanks to the en-room kitchenette. Don't miss the Venus bath: the medieval bathroom of the Lords is now converted into a SPA room featuring a Jacuzzi hot tub to pamper yourself in warm bubbling waters after a day of sightseeing.

The apartments's double entrance leads to a pair of elegant salons that show off its scale and style, with original paintings twining up the walls and colorful frescoes gracing the ceilings. Today, they're set up as a formal living and dining room whose wooden floors are covered with antique and modern furniture. Off the living area, find a fully equipped 21st-century kitchen, where light colours cabinetry echoes the delicate tones of the fre-scoes in the other rooms.
The apartment's five bedrooms likewise balance a charming, bucolic elegance with chic modernist touches. All 5 suites have king beds including two large size twin beds, all featuring ensuite bathrooms orned by Carrara marble from the Michelangelo cave.

Discovering Tuscany using a car or train can't be easier: either safe car parkings and the Lucca train station are between 5 and 10 mins walk away. From there you can explore the best-kept Italian secrets, such as Florence, Pisa, San Gimignano, Cinque Terre, Volterra, Bolgheri, Pistoia, Montecatini Terme, Livorno, Viareggio, Forte dei Marmi, Chianti, Garfagnana and Siena.

Wifi speed: 83 mbps

Obligatorische oder inklusive Nebenkosten:
Bettwäsche : inklusive
Check-in : inklusive
Endreinigung : 427,00 € /Buchung
Handtücher : inklusive
Heizung : inklusive
Hochstuhl : inklusive
Internetzugang : inklusive
Kaution (wird erstattet) : 500,00 € /Buchung
Kinderbett : inklusive
Klimaanlage : inklusive
Pulizia iniziale : inklusive

Optionale Nebenkosten:
Ankunft außerhalb der angegebenen Zeiten : 50,00 € /Buchung

Check-in:
1.1-31.12 von 15:00 bis 20:00, Montag, Dienstag, Mittwoch, Donnerstag, Freitag, Samstag, Sonntag

Check-out: 10:00
Faciliteter
Badeværelse

Badeværelsesindretning

Diverse

Fritidsfaciliteter på stedet

Husdyr tilladt

Klimaanlage

Kort beskrivelse

Antal badeværelser

5

Antal køkkener

2

Antal soveværelser

5

Lift til rådighed

Max. belægning

10

Min. belægning

1

Opholdsstue

250 m²

Køkken

Elektrisk komfur

Fryser

Kaffemaskine

Køleskab

Mikrobølgeovn

Opvaskemaskine

Ovn

Toaster

Køkken type

Nærliggende sportsfaciliteter

Omkringliggende

Afstand til næste indkøbsmuligheder

200 m

Rejseanvisninger

Afstand til nærmeste togstation

700 m

Soveværelse

Telekommunikation

Internetadgang

WLAN / WIFI (Internet)

TV

Type strand

Sandet strand

Sten/sten strand

Udstyr

Underholdningselektronik
Miniferie
Der er mulighed for miniferie hele året.
Priser og kalender
Pris
Periode
Ankomst

Afrejse

Varighed

1 uge
Personer
Ingen personer er valgt
Bemærk
Ankomst er ikke valgt.
Der er ikke valgt personer.
Aftalebetingelser