Sommerhus - 20 personer -
- 55100
- Lucca
Oversigt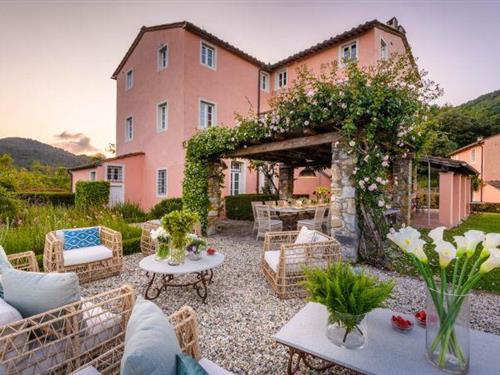 Vælg venligst en ankomstdato for at se pris.
Tilbyder miniferie

Ja

Afstand indkøb

6.400 m

Swimmingpool

Ja

Sauna

Ja

Brændeovn

Ja

Vaskemaskine

Ja

Opvaskemaskine

Ja
Beskrivelse
Teksten foreligger ikke på Dansk. Se teksten på Tysk nedenfor eller se den maskinoversatte på Dansk.
Beschreibung
Tastefully and meticulously restored, the 15th-Century Villa Francigena enjoys the luxuries of today while celebrating the ancient authenticity of its Tuscany roots. Nestled in the hilltops of private grounds, you'll enjoy a lush, secluded atmosphere with an incredible view of the rolling hills around Lucca. Spend your days lounging by the pool, exploring the property, and dining alfresco.
Villa Francigena is a stunning country villa in Tuscany in a 10 mins drive from the town of Lucca and 30 minutes from the beaches of Versilia and more exactly along the world-known Roman time road Via Francigena leading pilgrims from all over Europe to Rome and then to holy land once traced these hills passing close to the farmhouse and still today walkers can be seen on their journey of faith. Originally built in the 15th century, the recently renovated farmhouse villa on a hectare of beautifully landscaped gardens features expansive open-air living and dining areas, exquisite interiors, and ten superb bedroom suites sleeping twenty guests. For families and groups of friends seeking an ideal balance of privacy, rustic refinement, and prime locati-on in the heart of northern Tuscany, Villa Francigena is an ideal choice.
The owners' artful remodeling project has breathed a contemporary spirit into the vintage Tuscan home. The main dining room with farmhouse table is perfect for nighttime feasts with family and friends. Gourmet travelers will adore the fully equipped kitchen, which includes a eight-burner cooker, double oven, double dishwasher, american fridge with ice maker and French doors opening onto the outdoor dining area and the wood-fired pizza oven. The spacious kitchen is loaded with high-end appliances, marble counter tops, and extra seating at the breakfast bar and table.
Exposed wood beams and ancient stone walls show off Villa Francigena authenticity. Within the spacious villa, you'll find designer furniture, local works of art, and elegant lighting fixtures. The atmosphere is classic Italian countryside, warm, inviting, and stylish.
Secluded amid lush flowers and trees, the villa's ample grounds invite you to enchanting days and nights in the Tuscan air. Savor bright mornings floating in the sparkling swimming pool and sunbathing on stylish four-poster loungers.
An easy drive from this 10-bedroom villa, the walled city of Lucca is the perfect place to browse the boutiques before stopping for a glass of wine, as well as traditional Tuscan towns such as Pisa, Volterra, San Gimignano, Florence, Pistoia, Montecatini, Siena and the Cinque Terre with some of the best Italian medieval and Renaissance architecture; super restaurants, antique markets, classical and jazz music festivals, easy access to beautiful ancient villas nearby and endless beaches less than 30 mins away.

COMPOSITION

MAIN VILLA
Ground Floor: entrance, living room with fireplace with access to a patio, dining room, kitchen with extra breakfast corner, second kitchen, laundry room, toilet.
First Floor: grand living room with direct access to the garden, relax lounge with sauna, toilet, 2 master bedrooms with ensuite bathrooms.
Second Floor: 5 master bedrooms with ensuite bathrooms.

HAYLOFT
Ground Floor: entrance, dining room, kitchen, laundry room, living room, toilet.
First Floor: 1 master bedroom with ensuite bathroom, 1 master bedroom, 1 twin bedroom, 1 bathroom.

IMPORTANT NOTES:

The price is modulated according to the number of people. Please make sure to indicate the correct number of people during the rental procedure. The accommodation will be provided only for the number of people indicated in the booking request.

Obligatorische oder inklusive Nebenkosten:
Bettwäsche : inklusive
Check-in : inklusive
Endreinigung : 1.500,00 € /Buchung
Handtücher : inklusive
Heizung : inklusive
Hochstuhl : inklusive
Internetzugang : inklusive
Kaution (wird erstattet) : 2.000,00 € /Buchung
Kinderbett : inklusive
Klimaanlage : inklusive
Parkplatz im Freien : inklusive
Pulizia iniziale : inklusive
Strom : inklusive
Utilities : inklusive

Optionale Nebenkosten:
Ankunft außerhalb der angegebenen Zeiten : 50,00 € /Buchung

Check-in:
1.1-31.12 von 15:00 bis 20:00, Montag, Dienstag, Mittwoch, Donnerstag, Freitag, Samstag, Sonntag

Check-out: 10:00
Faciliteter
Badeværelse

Badeværelsesindretning

Diverse

Fritidsfaciliteter på stedet

Have og udendørs

Husdyr tilladt

Klimaanlage

Kort beskrivelse

Antal badeværelser

9

Antal køkkener

2

Antal soveværelser

10

Antal toiletter

3

Ejendom område

5000 m²

Max. belægning

20

Min. belægning

1

Opholdsstue

700 m²

Køkken

Fryser

Gaskomfur

Kaffemaskine

Køleskab

Mikrobølgeovn

Opvaskemaskine

Ovn

Toaster

Køkken type

Nærliggende sportsfaciliteter

Omkringliggende

Afstand til byen

10 km

Afstand til næste indkøbsmuligheder

6,4 km

Rejseanvisninger

Afstand til nærmeste lufthavn

36 km

Afstand til nærmeste togstation

10 km

Soveværelse

Antal dobbeltsenge

4

Antal enkeltsenge

2

Stue møbler

Telekommunikation

Internetadgang

WLAN / WIFI (Internet)

Type strand

Sandet strand

Sten/sten strand

Udendørs faciliteter

Udstyr

Underholdningselektronik
Miniferie
Der er begrænset mulighed for miniferie hele året, typisk uden for højsæsonen.
Priser og kalender
Pris
Periode
Ankomst

Afrejse

Varighed

1 uge
Personer
Ingen personer er valgt
Bemærk
Ankomst er ikke valgt.
Der er ikke valgt personer.
Aftalebetingelser