Sommerhus - 8 personer -
- 55100
- Lucca
Oversigt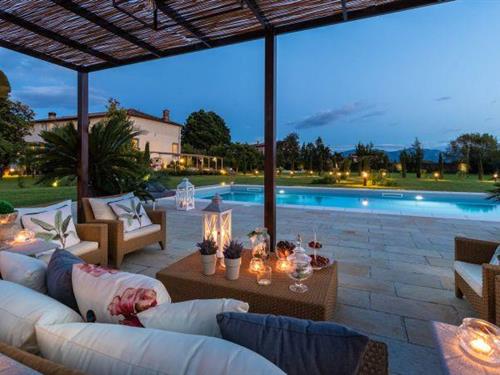 Vælg venligst en ankomstdato for at se pris.
Tilbyder miniferie

Ja

Afstand indkøb

3 km

Swimmingpool

Ja

Brændeovn

Ja

Indhegnet område

Ja

Vaskemaskine

Ja

Opvaskemaskine

Ja
Beskrivelse
Teksten foreligger ikke på Dansk. Se teksten på Tysk nedenfor eller se den maskinoversatte på Dansk.
Beschreibung
Particular consideration has been paid to the safety and the environment. An important photovoltaic system supports the villa's higher electricity consumption, and eco-sustainable fuels are used for heating in all rooms and for the use of hot water. Throughout the villa there are no pipes and no use of methane gas, this resulting in extreme safety. Set among acres of manicured gardens, the elegant VILLA HUGO transports you to a different era without sacrificing any modern luxury. Once a country residence Villa of the Trebiliani Family, the 13th-century villa has been fully restored into a 4-bedroom haven with hotel-worthy amenities. Nowadays the descendant of the family and his wife lives on one half of the building while guests can enjoy their privacy in their piece of history. Though it feels like its own world, the property is close to both Lucca, Florence, Pisa and the Versilia Coast
Tucked among the manicured lawns and paths, you'll find the Italian flowers orchard and organic fruit tree garden whose produce graces the dinner table. The grounds also include a salted-water pool with jetted jacuzzi corner and two wonderful pavilions that features amazing outdoor living areas. Have a drink at the luxury pool, whip up dinner on the grill and dine under the Tuscan sun and moon or under the pergola. Adults will appreciate a reliable Wi-Fi connection throughout as well as a loft grand living room featuring international channels.
VILLA HUGO's interiors are classical and sumptuous, with cotto floors, original fireplace, plush upholstery, full drapes and plenty of chandeliers crowning the living spaces. A fully equipped kitchen is located on the ground floor with access to the outdoor veranda and its dining and living spaces. There on the ground floor there is also an indoor dining room with tv and fireplace, so you can simply settle into the bright, airy Tuscan dining room to enjoy meals fresh from the garden and sample Italian wine. A bathroom completes the floor.
The villa's four bedroom suites provide the same level of luxury and style; each has an en-suite bathroom, air conditioning and its own sitting area. Two of the bedrooms with two ensuite bathrooms are located on the first floor, two more bedrooms with two en suite bathrooms along with a salon/living room are located on the second floor.
VILLA HUGO's prime location balances elegance and privileged location as a convenient access to Lucca (less than a 10 mins drive away) and other regions of Tuscany, featuring exceptional restaurants, nightlife spots and many local experiences such as Wine Tastings and Cooking Lessons in addition to its famous sightseeing sites.For sport lovers there is a tennis court just 200 meters away, and the river park is just 1 km away, offering beautiful walks or biking tours Nearby gems include PISA (25 mins drive away), the Beaches of VIAREGGIO and FORTE DEI MARMI (25 mins drive away), FLORENCE (45 mins drive away), CINQUE TERRE (1 hour drive away), PISTOIA (30 mins drive away), MONTECARLO and the wine country of Lucca (15/20 mins drive away), MONTECATINI TERME Spa (20 mins drive away), SAN GIMIGNANO (1 hour and 15 mins drive away), BARGA (45 mins drive away), GARFAGNANA (35 mins drive away) and SIENA (less than 2 hours drive away).
Due to its location in the center of important communication routes and the privileged position in the plain, on the outskirts of Lucca, the villa was also the object of attention by the American armed forces during the Second World War, making it its headquarters in the period from March 1944 to May 1945, when the Gothic line that ran between the two Tyrrhenian and Adriatic seas was one of the most important war posts.

To ensure all the main Health & Safety standards the owners have installed a smoke detector and a carbon monoxide detector. Security cameras have also been installed outside to grant the most protection.
There is a fenced private parking within the estate and guests will also benefit of the use of a safe.

Stay at Villa Hugo and adopt or donate yourself an olive tree

THE MISSION

Our goal is to deliver to our guests a unique and excellent experience, enhanced by the fairy-tale atmosphere of a Renaissance Residence where they can relax surrounded by secular olive groves.

YOUR CONTRIBUTION

Are you at least eighteen years old??

Only by staying at villa Hugo for your holidays and in your free time you can contribute to achieve the goal!

You can name your favourite tree among our orchard during the period between 1st november and 30th april of the coming season and you will have the opportunity to forever immortalize your name on one of our heritage trees.
A photo with Your olive tree and the certificate of adoption at Villa Hugo will be issued in order to provide fond memories of your Tuscan Experience with us. And to better remind of your Tuscan adventure once at home, a bottle of Extra Virgin Oilve oil from your own Olive Tree that bears your name will be delivered directly from Villa Hugo to you or to your loved ones along with a personal message.

Please email us directly to know more about Villa Hugo's project!

Obligatorische oder inklusive Nebenkosten:
Bettwäsche : inklusive
Check-in : inklusive
Endreinigung : 347,00 € /Buchung
Handtücher : inklusive
Heizung : inklusive
Hochstuhl : inklusive
Internetzugang : inklusive
Kaution (wird erstattet) : 1.000,00 € /Buchung
Kinderbett : inklusive
Klimaanlage : inklusive
Pulizia iniziale : inklusive

Optionale Nebenkosten:
Ankunft außerhalb der angegebenen Zeiten : 50,00 € /Buchung

Check-in:
1.1-31.12 von 16:00 bis 21:00, Montag, Dienstag, Mittwoch, Donnerstag, Freitag, Samstag, Sonntag

Check-out: 10:00
Faciliteter
Badeværelse

Badeværelsesindretning

Diverse

Fritidsfaciliteter på stedet

Have og udendørs

Grill

Havemøbler

Indhegnet: hæk, mur eller hegn

Husdyr tilladt

Klimaanlage

Kort beskrivelse

Antal badeværelser

4

Antal køkkener

1

Antal soveværelser

4

Ejendom område

6000 m²

Max. belægning

8

Min. belægning

1

Opholdsstue

300 m²

Køkken

Fryser

Kaffemaskine

Køleskab

Mikrobølgeovn

Opvaskemaskine

Ovn

Toaster

Køkken type

Nærliggende sportsfaciliteter

Omkringliggende

Afstand til byen

5 km

Afstand til næste indkøbsmuligheder

3 km

Rejseanvisninger

Afstand til nærmeste lufthavn

32 km

Afstand til nærmeste togstation

6 km

Soveværelse

Stue møbler

Telekommunikation

Internetadgang

WLAN / WIFI (Internet)

Type strand

Sandet strand

Sten/sten strand

Udendørs faciliteter

Udstyr

Underholdningselektronik
Miniferie
Der er begrænset mulighed for miniferie hele året, typisk uden for højsæsonen.
Priser og kalender
Pris
Periode
Ankomst

Afrejse

Varighed

1 uge
Personer
Ingen personer er valgt
Bemærk
Ankomst er ikke valgt.
Der er ikke valgt personer.
Aftalebetingelser